Sacoche Shooting Accessories
Sacoche Cartridge holder – $27.00
Heavy elastic Cartridge holder: Fits over rifle stock. Can be made to accept any caliber cartridge. Excellent quality, Very strong, well priced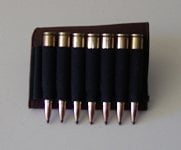 Adjustable rifle/shotgun slings – $43.10
Auscam, green, black. Polyester webbing and heavy canvas with Fastex buckles, manufactured to Mil standard, padded for comfort. Will withstand any treatment you can dish out. Top value for money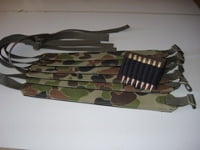 Field pack small – $40.00
Genuine Australian Army pack, Auscam canvas Fastex buckles, adjustable straps, internal gusset. Webbing is 100% polyester. (limited stock)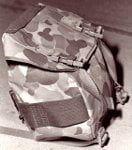 Military Tactical holster (Australian Army) – $95.00
Manufacture with Heavy Auscam canvas, Ballistic nylon (olive green), & Black synthetic. Fastex buckles polyester webbing. Extremely rugged to withstand the rigours & demands of Military operations to fit standard issue 9mm pistol & or 45 caliber Colt. Best value anywhere.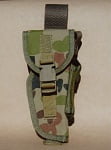 Sacoche rifle/shotgun semi rigid valise: (Military)
Specially created for sniper & high precision rifles, will absorb shock from rough roads or accidental drop, when open can be used as shooting mat. A special handle is provided to allow the valise to double as a drag mat. Fitted with a Mil specs adjustable webbing diagonal shoulder strap for carrying in the field. Made in heavy 400 grm Auscam canvas or olive green Ballistic nylon. Fax or email jean.bou@bigpond.com.au for price.
Genuine Australian Army Individual shelter – $50.00
80grm bronze green nylon, waterproof only a 100 or so in stock, will not be manufactured again once sold.
Sacoche Hunting back pack (3days) – $150.00
Extremely comfortable, light, all Australian waterproof canvas with thick lumbar support & Internal gusset. Simple design, very tough, ideal for short hunting trips. Available in Auscam, green, beige. All polyester webbing & Fastex buckles. Very good value. Manufactured to Mil specs.
Sacoche rifle/shotgun valise (heavy canvas & ballistic nylon)
Semi rigid valise for precision & expensive weapons offer complete protection against shock, accidental drop rough roads etc… waterproof, double 40/50mm high density foam with cloth liner. Top quality product & excellent value length 90 – 120 -130cm width: 25cm thickness 80 -100mm
Fourreau light rifle/shotgun case – $120.00
Fully padded canvas or ballistic nylon length 90 -120 -130cm.
Sacoche folding shooting mats – $120.00
300grm canvas mat 90cm x 180cm full length padding with carry handle, twin locking straps, Fastex buckles, reinforced corners with stainless steel eyelets.